Did you know I'm a Halloween baby?  Well, not so much the baby part anymore, I suppose.  I'll be 31 years old on the 31st this year.  Something my 4 year old loves to remind me.  I'm pretty sure that when I was little, I thought Halloween meant everyone was throwing a party for my birthday.  To this day, it's one of my very favorite Holidays.  I love the spookiness factor, décor, dressing up in costume, Pumpkin pickin', enjoying a little Pumpkin Beer (like the local brew below), and pretty much anything and everything else to do with eating pumpkin and the cooler weather!
In a few weeks, I'll be sharing my Halloween Mantle with you.  It's a craft I did as part of a current campaign with Martha Stewart Crafts and BluePrint Social.  I received a box of Martha Stewart paints and painting related goodies to try out and share with you.  This is a little something else I made using her products and I have to say, they're pretty darn awesome and I'm certainly hooked.  They definitely help create a more professional looking quality to my crafts. 
These mugs took less than an hour in actual working time and I think they came out pretty cute if I do say so myself!  This is what you'll need to make your own:
-Ceramic Microwave Safe Mugs (I got these for about $3 each at World Market)
-A small spouncer or small round short bristled paintbrush
-Martha Stewart Crafts Condensed Sans Alphabet Adhesive Stencils (for the dotted line and Chevron Stencils)
For the Happy Halloween Chevron Mug I did the "Happy Halloween" stencil in the middle with Black paint.  Then, I painted an orange row of chevron on either side of the text.  I simply dabbed small amounts of paint with a small round short-bristled brush.  Then immediately peeled off the stencils and washed them.  I placed them on a paper towel, sticky side up, to dry and when dry I placed them back on their sheet for later use.
The awesome thing about these stencils and they stretch a bit, making it easy to do curved surfaces like wine glasses and these ceramic mugs.  And they're re-useable too (even after washing them!).
For the spider mug, I used the same technique with two spiders and two dotted lines.
To set the paint, you can air cure for 21 days or bake.  I usually bake my painted glass and ceramic crafts.  Just place the dry items in a cold oven and heat up to 350 degrees.  (In other words: DO NOT preheat before placing items in the oven.  The extreme temp change could cause them to break, crack or even explode).  Bake for 30 minutes, then turn oven off and allow to cool completely before removing items.  They're ready for use after 72 hours.  (Note that per the item instructions the Glitter Glass Paints are air cure only!).
Add a bit of orange cellophane or tissue paper and candy in the cups, and these would make a great Halloween gift for a teacher, neighbor, or friend!
Linking up on:
The Halloween Link Party at Eighteen25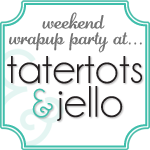 Disclosure:  This post is not part of a paid campaign but I did receive the products free for use in an upcoming campaign.  The opinions, as always, are 100% my own.  Please see the very bottom of my blog for my full disclosure statement.